About the Meyersville Inn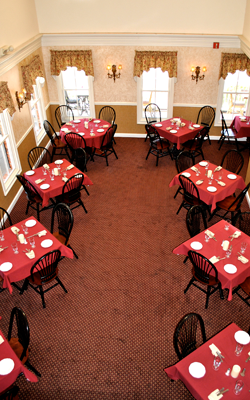 The Meyersville Inn is a casual, elegant, family-friendly, neighborhood tavern and restaurant that serves classic American cuisine with regional specialties.
Located at 632 Meyersville Road, in Gillette, NJ, the Inn has long served the local community as a tavern and social landmark dating back to 1900. The original dining rooms, featuring rich mahogany finishes and classic American accents, convey a comfortable old world charm redolent of a distant era. You may even glimpse the spectral figure of Elias Williams, who owned the property in 1850, and to the astonishment of staff and guests, still holds court at his favorite table in the corner of the back dining room!
In addition to providing a comfortable and historic ambience for our regular diners, our dining rooms are the perfect venue for hosting a private party or corporate event. We specialize in hosting intimate affairs such as rehearsal dinners, baptisms, birthday parties, and bridal showers. Our friendly staff and delicious food make the Inn an ideal location to entertain your friends, family and business associates.
The staff and owners of the Meyersville Inn cordially invite you back to the restaurant and tavern to experience the old world history and tradition of dining at a cozy, community landmark that offers delicious, hearty fare at a fair price.
Our Restaurant
Our restaurant is located right in the Meyersville Circle, in a truly peaceful, rural, historic setting that makes it so ideal for casual dining, just as it was so long ago!

Our History

Lunch - Dinner

Drinks - Wine List

Hours – Make a Reservation